Head to the Exit
A downloadable game for Windows
Welcome to your local carnival dark ride.
It's a family-run business, so don't be surprised if it breaks down. Just stay in your vehicle. Whatever you do, don't get out and look for an exit.

This game is inspired by my irrational fear of having to walk out of a haunted house or ride during a breakdown. I love dark rides, but I've always been scared of those smaller establishments in the middle of nowhere. Imagine if you decided to visit one on a whim without telling anyone where you went… no one would know where to look for you…
At least this ride has multiple exits...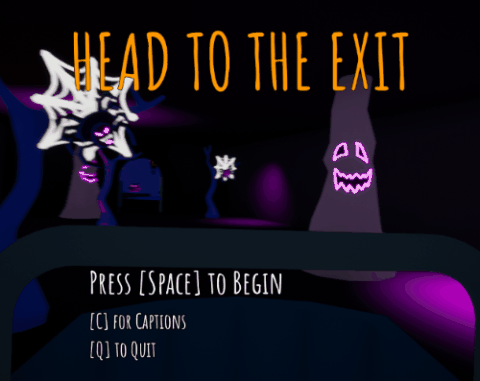 Instructions
Move mouse to look around when ride breaks down
Press [Space] to start, leave cart, or walk
[C] for captions
[Q] to quit
KNOWN ISSUE: Sometimes when the menu re-appears you'll be unable to move. If that happens you'll have to quit and restart the game.
Accessibility Notes:

Audio: Press [C] to toggle captions on or off. Sound effects, music and dialogue are all displayed visually.
Motor: The game only uses the space key and mouse movement. There are no quick time events or hold events.
Visual: All events in the game have voice over, sound effects and music. However there are no text to speech descriptions of the different sections of the ride. I hope to build this feature for future games, sorry it didn't make it into this one.
Credits list:
Download
Click download now to get access to the following files:
Head to the Exit (Windows)
168 MB
Comments
Log in with itch.io to leave a comment.
Really cool idea. The endings could use some uniqueness.
Thanks for playing! Yeah, I got a bit rushed at the end of the game jam. If I return to this project I'd definitely like to expand the endings and make them scarier!
Very interesting. Some unique things going on here and I love the cute/horror aesthetic in this.
It's been awhile since I've played a more light-hearted horror, but I was genuinely impressed, mostly because the game's design is very curious. The game ends not long after it begins... and yet, it doesn't. Play it for yourself to know what I mean. A game I initially thought was going to be the shortest is the game I ultimately spent the most time with. Well done.
Thank you, that's how I intended the experience so I appreciate your comments greatly!
This was such a neat experience! I love the atmosphere and how it really feels like a dark ride. Very cool!
i LOVED THIS so much!! i think this is my favorite entry so far. all the little areas are so cute and vibrant and i loved how when you head to the exit, the cutscenes are different for each area you break down in?? some of them were unexpectedly really funny to me like the one where the guy is hiding in the wall lmfao. this was so clever and cute. love the accessibility features too. and wow @ you making all the assets yourself!!! amazing work
Thanks for such a kind and detailed comment! That's great it was funny for you, I find there's a thin line between horror and comedy sometimes :)
my playthrough starts at 7:50
I did get legit scared a couple times. It's a really cool idea! Great job!